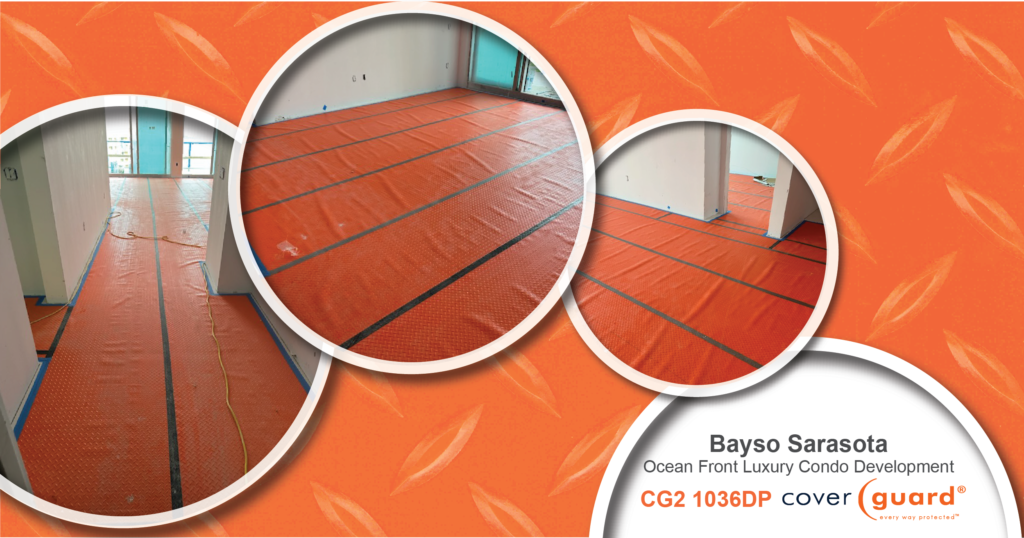 The Bayso Sarasota project involves the construction of an oceanfront luxury condominium development located at 301 Quay Commons, Sarasota, FL. Led by the Kolter Group and managed by the general contractor KAST Construction , the project aims to create a lavish living space with 149 condo units spanning levels 5 to 19. The scope includes the protection of various surfaces within the units and common spaces, such as porcelain tile, carpet, vinyl, and luxury vinyl tile, covering a total area of 232,874 square feet in the units and approximately 16,308 square feet in common areas.
Surface Protection Solution:
To safeguard the delicate surfaces throughout the construction and maintenance phases of the Bayso Sarasota project, Cover Guard surface product solution was used. Specifically, the chosen product for this task was CG31036DP, a 10 mil non-flame retardant version of Cover Guard. This protective surface cover is made of durable polyethylene material and is designed to be easily handled, cut, and moved around the job site. Cover Guard provides reliable protection against potential damage and wear during activities like construction, restoration, and maintenance, making it a valuable asset for high-end projects like Bayso Sarasota.
The protective efforts were coordinated by Architectural Tile and Marble, responsible for ensuring the safeguarding of the various surfaces in the project. Anthony Valentino, the project superintendent from Architectural Tile & Marble, worked closely with suppliers to select and implement the appropriate protection measures. Daltile of Tampa/Clearwater, represented by Devin Wilkerson, supplied the cover guard® polyethylene protective material. Daltile's network of branch locations facilitated the distribution of Cover Guard® throughout the project.
The use of Cover Guard on this luxury condominium development not only helps maintain the quality and appearance of the surfaces but also underscores the commitment to delivering a flawless living experience to the future occupants of Bayso Sarasota.