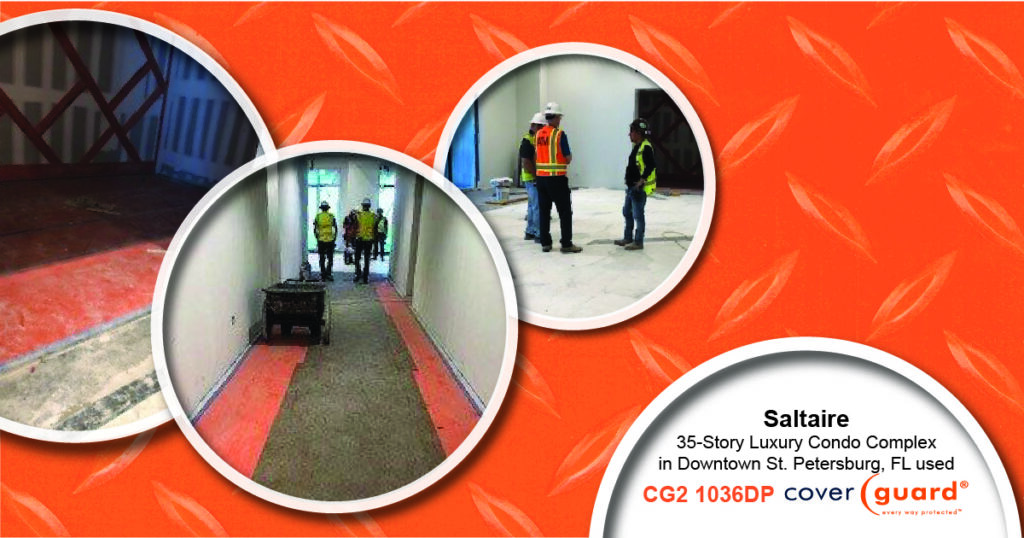 This project showcases the application of Cover Guard®'s CG2 "Orange" formulation, a cost-effective temporary surface protection system that offers similar qualities to their flagship product, the CG "Blue." The CG2 series provides all the features and benefits of the CG "Blue" without the flame retardant (FR) chemical ingredient. It is designed to protect various surfaces such as hardwood floors, tile, marble, granite, terrazzo, slate, concrete, stained concrete, epoxy finishes, paint, glass, metal, and countertops where flame retardancy is not required.
Saltaire, a 35-story luxury condo complex located in downtown St. Petersburg, FL, faced the need to protect a total of 350,000 square feet of surfaces. To achieve this, Cover Guard®'s CG2 1036DP, a 10 Mil Non-FR cover guard, was used to cover all porcelain tile floors in both the units and common areas across all 35 floors. Additionally, in cases where Masonite was utilized as impact protection for long-term coverage, Cover Guard® was employed as an "underlayment" to prevent scratching or marring of the porcelain tile finish caused by the Masonite.
The use of CG2 "Orange" Non-FR Cover Guard® proved to be an ideal solution for the Saltaire luxury condo complex, providing efficient and reliable protection for a wide range of surfaces without compromising on quality or performance.
Key Project Details:
General Contractor: Kast Construction
Flooring Contractor responsible for surface protection: Architectural Tile & Marble
Project Manager at Architectural Tile & Marble (Saltaire): Paul Schmidt
Source of Supply for Cover Guard® Temporary Surface Protection: Dal Tile SSC 192, Sarasota, FL
Contacts at Dal Tile, Sarasota, FL:
Devin Wilkerson
Bobby Losser